Corporate Governance
Basic Position Concerning Corporate Governance
Dedicated to using sound and transparent management to earn the trust of customers, society and shareholders
The Hiroshima Gas Group is guided by the philosophy of "aiming to be a company that earns the trust of society." To achieve constant growth of corporate value, we are always taking actions for maintaining and upgrading an effective corporate governance framework in order to ensure that operations are managed with soundness and transparency.
Corporate Governance Structure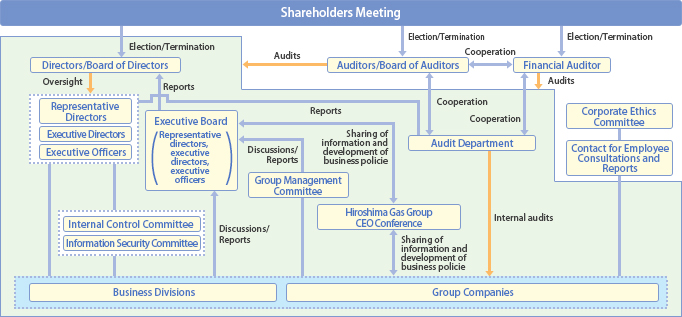 Management Framework
The Board of Directors has eleven members, including four outside directors. Directors meet once each month as a rule and at other times as needed. The Board of Directors makes decisions about business operations and supervises how directors with authority for business units conduct their respective operations. In addition, the directors receive reports on the operations of group companies in order to perform overall supervision of management.
The Executive Committee consists of six directors who are also executive officers, two full-time corporate auditors and six other executive officers. This meeting takes place twice each month as a rule and at other times as needed. There is also a Group Management Committee that is chaired by the general manager of the Corporate Operations Division. The Executive Committee receives reports about the status of management and business operations of group companies from the Group Management Committee and oversees the management of all group companies.
Auditing Framework
The Board of Corporate Auditors has four members that include two outside corporate auditors. All corporate auditors perform investigations in accordance with audit policies and plans established by the Board of Corporate Auditors. The corporate auditors also attend meetings of the Board of Directors and other important meetings. The corporate auditors audit the performance of the directors by studying the status of business operations and finances. For subsidiaries, the corporate auditors ask for business reports from subsidiaries as needed and study the status of business operations and finances.
The Audit Department, in accordance with the annual audit plan, performs audits to confirm the legality of business operations, compliance with internal rules and other items. Results of these audits are reported to the company president, corporate auditors, General affairs Department and others. Giving advice and recommendations to various organizational units of Hiroshima Gas is another role of the Audit Department. The corporate auditors, financial auditor and Audit Department hold regular meetings about audit policies, audit reports and other subjects. These meetings increase mutual cooperation by facilitating exchanges of opinions and other forms of communication.
Risk Management and Compliance Structure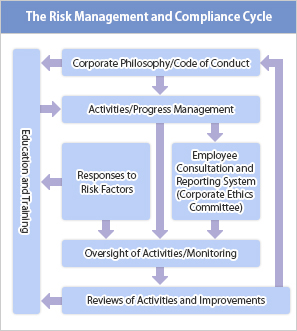 The Hiroshima Gas Group has established the risk management and compliance structure shown on the right for the purpose of translating into actions the philosophy of "aiming to be a company that earns the trust of society." The objective of this framework is to receive the support of the public as a responsible corporate citizen. We want all group executives and employees to do their jobs with sincerity and fairness as they comply with laws and regulations and ethical guidelines.

1. Establishment of Code of Conduct
The Hiroshima Gas Group has established Business Rules and Guidelines for Behavior for Hiroshima Gas Group Employee to provide standards for how people do their jobs. Furthermore, we have written a booklet called Using Case Studies to Learn about Compliance that explains various problems for use in training programs. These programs and other activities help ensure that employees conduct business operations properly.

2. Continuous Education
The Hiroshima Gas Group conducts compliance training and compliance awareness surveys on a regular basis. Performing these activities reinforces awareness of the importance of compliance among executives and employees. Another benefit is creating a deeply rooted corporate culture that does not permit violations of laws and regulations or any other improper behavior. In addition, we use groupware for an internal control bulletin board and an internal magazine called GAS LAND in order to distribute information. We also distribute a pamphlet explaining Guidelines for Behavior for Hiroshima Gas Group Employee and Compliance Cards in order to maintain and increase the commitment of executives and employees to risk management and compliance.

3. Risk Management and Compliance Framework
At the Hiroshima Gas Group, the General affairs Department is responsible for all activities involving risk management and compliance. There is also an Internal Control Committee and a Group Management Committee. This department and the two committees oversee the status of risk management and compliance programs throughout the group. Furthermore, there is a framework for reaching decisions about compliance programs and monitoring and correcting the implementation of these programs. To create a self-cleansing function, there is an employee consultation and reporting system that allows all group employees to directly contact the Corporate Ethics Committee or other individuals about matters involving ethics.
Risk Management
Risks involving natural and other disasters
The Hiroshima Gas Group has numerous measures to be prepared for a major natural disaster or other event that affects the stability and safety of the supply of gas to customers. In accordance with Guidelines for Responses to Earthquakes and Other Disasters, which prescribes rules involving disasters, we have established a system for emergency information communications if a disaster or accident occurs, a system emergency orders and instructions, and other systems. There are also periodic disaster response drills. Minimizing the spread of damage following a disaster is the primary objective of these activities.
Risks involving information leaks
The Hiroshima Gas Group has an Information Security Policy to deal with risks involving information leaks and similar incidents. There is an information security framework centered on the Information Security Committee. We use this framework for various activities to prevent information leaks, such as education programs about the handling of personal information. In addition, there are rules for information disclosure and other actions if a problem occurs in order to respond swiftly and properly.
Risks involving business operations
For risk factors involving business operations, the Hiroshima Gas Group has identified analyzed and evaluated risks in each business unit. We then used the resulting information to create proposals for countermeasures and implement these measures. We want to target the causes of problems to prevent them from occurring. If a problem occurs, the General affairs Department and Internal Control Committee take the lead in rapidly devising a solution. The next step is analyzing the causes of the problem to prevent it from happening again.