President's Message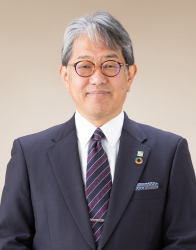 I was named the new president of Hiroshima Gas at the meeting of the board of directors that followed the shareholders meeting on June 27, 2017. Based on our management philosophy of being a company that is trusted by the communities we serve, our highest priority will continue to be building relationships rooted in trust with shareholders, customers and communities.

Retail sales of electricity in Japan were completely deregulated in April 2016 and all regulations on retail sales of gas ended in April 2017. The result is an increasing number of providers of electricity and gas, including electricity and gas suppliers entering each other's markets. Major changes are taking place in the business climate for gas companies because of deregulation.

In October 2009, Hiroshima Gas announced a vision for the Hiroshima Gas Group called Action for Dream 2020. This vision has three central themes: breadth, depth and warmth. We created Action for Dream 2020 to define what our group should be, and what we wish to be, in 2020 and are taking numerous actions to achieve the goals of this vision.

In March 2017, prior to the Japan's complete deregulation of retail gas sales, Hiroshima Gas announced a new corporate slogan: "Hiroshima Gas - Energy that truly benefits communities." This slogan expresses our commitment to fulfilling our obligations as a regional energy supplier by conducting business operations and providing services that closely reflect our customers' needs.

The Hiroshima Gas Group views deregulation as an enormous opportunity for more progress. Our objective is to remain the first choice of our customers as we take actions for more growth in the use of city gas and LP gas.

As deregulation alters our operating environment, our dedication to earning the trust of shareholders, customers and communities will continue to guide our activities as we aim for the goals of our vision for 2020.

June 2017
President Kensuke Matsufuji