Medium-term Management Plan
The goal of the medium-term plan ending March 2018 is sustained growth of the Hiroshima Gas Group. Based on the view that the liberalization of energy markets and other developments are creating many opportunities for the group, the plan aims to increase the use of gas energy and improve the efficiency of the group's operations. In addition, Hiroshima Gas is seeking new business activities that can benefit from changes in the business climate.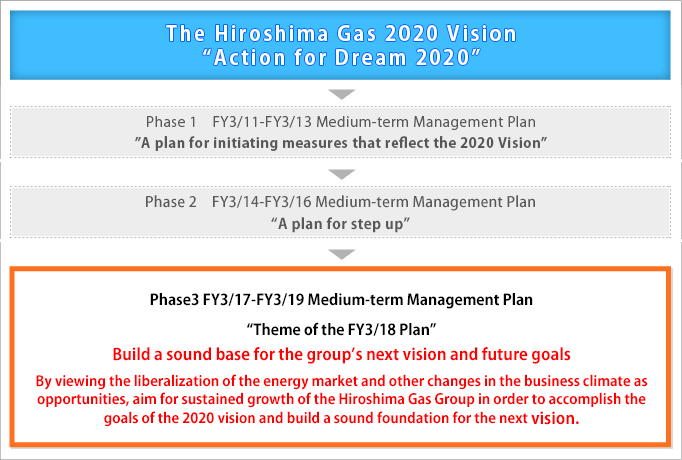 Six Basic Goals
1. Conserve energy, cut CO2 emissions and improve energy security by increasing the use of natural gas and LPG and using energy more efficiently and responsibly.
2. Supply customers with more value by seeking more ways to provide services from the customers' perspective and helping support life styles that are more environmentally responsible and safe.
3. Seek new business opportunities and start new businesses in order to respond properly to the liberalization of Japan's energy market.
4. Earn a reputation as a rewarding workplace and responsible corporate citizen by creating an open-minded organization with priority on fairness and transparency.
5. Develop a workforce that is highly skilled and motivated and also capable of taking on the responsibility for future growth.
6. Improve the Hiroshima Gas Group's profitability and financial soundness in order to build a powerful corporate structure and sustain growth.

Plan/Goals
Gas Supply Plan
FY3/17
(est.)
FY3/18
FY3/19
FY3/20
3-year average growth rate
Number of customer accounts (end of each FY)
408,000
408,000
408,000
408,000
0%
Gas sales volume (Unit: 45MJ, million cubic meters)
FY3/17
(est.)
FY3/18FY3/18
FY3/19
FY3/20
3-year average growth rate
Residential
100
103
103
104
1.3%
Commercial
44
46
47
49
2.9%
Industrial
254
256
322
340
9.3%
Others
38
38
40
40
1.7%
Total (excluding wholesale)
436
444
515
533
6.5%
Wholesale and other
56
56
56
56
0%
Grand total
492
501
571
589
5.8%
(Totals may not match the sum of individual items due to rounding.)
Plan for Capital Expenditures (billion yen)
FY3/17
(est.)
FY3/18
FY3/19
FY3/20
3-year total (FY3/18-FY3/20)
Production infrastructure
1.0
0.5
0.5
0.1
1.3
Supply infrastructure
5.9
5.7
7.2
7.3
20.3
Service and maintenance facilities and other facilities
1.1
1.8
0.9
0.1
2.9
Total
8.0
8.1
8.7
7.6
24.5
(Totals may not match the sum of individual items due to rounding.)
Measures to Improve Management Efficiency
Hiroshima Gas has established the following new targets for operating efficiency for the three-year period ending in FY3/18. All group companies have a strong commitment to reaching these targets. Please use the following link for more information.