Our Business
Profile
Dedicated to being a trusted member of society
Hiroshima Gas was established on October 30, 1909. We were the 22nd gas utility in Japan following the founding of the country's first gas utility, Yokohama Gas, in 1872. We were the first provider of gas in the Chugoku region of Japan. Since then, we have grown steadily for more than a century along with the areas that we serve.

Currently, we supply natural gas, the fossil fuel with the smallest environmental impact, to Hiroshima and six other cities in Hiroshima prefecture as well as to 409,000 customers in nearby areas.

How Gas Moves from Suppliers to Customers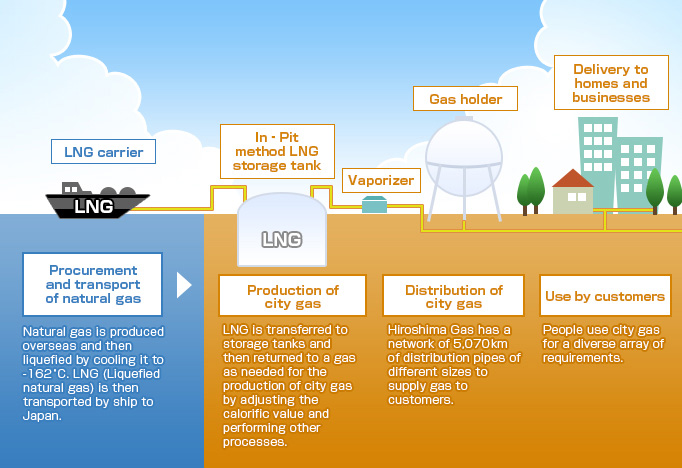 The Hiroshima Gas Service Area and Infrastructure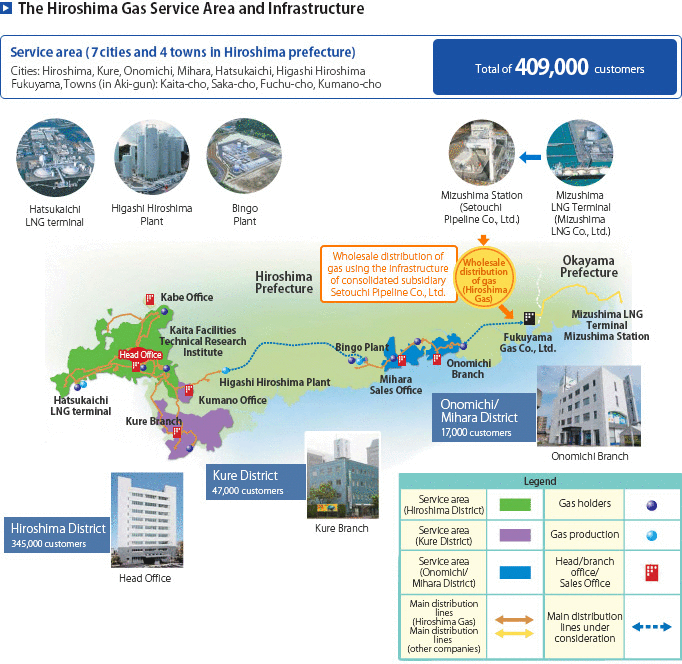 The Hiroshima Gas Group
There are 36 companies (as of March 31, 2017) in the Hiroshima Gas Group, including Hiroshima Gas and its subsidiaries and affiliated companies. Gas and LPG are the primary businesses of the group.
Business Segments

Major Subsidiaries (March 31, 2017)
HIROSHIMA GAS PROPANE CO., LTD.
Capital ¥300 million / Established March 1969 / Sales ¥9,210 million / Employees 91
(Main activities)
LPG business
-Sale of LPG
-Refilling LPG tanks
-Sale of LPG devices and installation of LPG pipes
-Gas retailing from LPG as a raw material in areas outside the Hiroshima Gas service area

HIROSHIMA GAS TECHNO‐SERVICE CO., LTD.
Capital ¥80 million / Established June 1998 / Sales ¥11,811 million / Employees 208
(Main activities)
Gas business
-Safety inspections
Other activities
-Construction, chiefly involving gas pipes and lines
-Engineering
-Installation of machinery
HIROSHIMA GAS MATE CO., LTD.
Capital ¥20 million / Established April 1975 / Sales ¥1,093 million / Employees 155
(Main activities)
Gas business
-Gas meter data collection
Other activities
-Collection of fees and call center operations
RUNET CO., LTD.
Capital ¥30 million / Established October 2000 / Sales ¥296 million / Employees 6
(Main activities)
Other activities
-Information distribution
BE‐SMILE CO., LTD.
Capital ¥50 million / Established June 2001 / Sales ¥183 million / Employees 27
(Main activities)
Other activities
-Services for seniors
SETOUCHI PIPELINE CO., LTD.
Capital ¥150 million / Established May 2003 / Sales ¥1,011 million / Employees 10
(Main activities)
Gas business
-Transmission service
HG LNG SHIPPING CORPRATION
Capital ¥10 million / Established February 2005 / Sales ¥3,706 million